HISTORY
Over the years I have been involved with most aspects of audio production. Several years ago, I was the recipient of a Gold and two Silver ADDY Awards (for original musical compositions) from the Fourth District American Advertising Federation, Inc. Since then I have rendered live organ music for the St. Petersburg Cardinals (A), the Tampa Bay Lightning (NHL), and the St. Petersburg Devil Rays (A).

Currently, I am the Audio Engineer for the Tampa Bay Rays (MLB).

Also, as a winter time employee of the Tampa Bay Lightning hockey organization, I'm involved with scoreboard/game-night operations. My experience with baseball and hockey has enabled me to compile dozens of sports organ tunes and clap-along events that really work with diverse audiences. Knowing the right stuff and just how to accelerate the tempo, for example, are key ingredients in your program's "organ/crowd participation music." The Lightning used my BASEBALL BLIPS audio library to entertain the fans at the Ice Palace in Tampa for several seasons before a sponsored live organist position was created.

Before the Lightning's 2009-2010 season, many changes were made on the game night crew. Live organist Johnny O is no longer with us and the reason for his departure isn't clear. So tune into a Lightning broadcast and you'll be listening to my recorded organ performances in BASEBALL BLIPS 2017!

Over the past twenty years, I have shipped my audio library around the world. Baseball, hockey, basketball, volleyball, football, etc., organizations have been thrilled to offer their fans an entertaining, professional musical presentation. Here in the United States, my audio library is being used by sports programs that include the Little Leagues, Women's Softball and Fast Pitch - - High School sports programs, Collegiate sports and all levels of professional baseball, hockey and basketball teams from around the nation.


On February 15, 2003 during our annual Tampa Bay Rays Fan Fest, I had the opportunity to photograph my audio room at Tropicana Field. It is located in the corner glassed in area on the first base side of the media level. To my left are rooms for the home and away radio and television guys. The image on the right depicts the interior. I have a mixing board for all my audio tools and feeds from all the mics and video control room.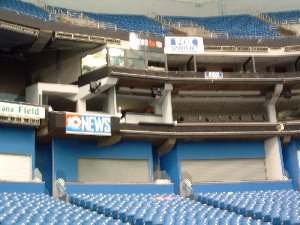 At my disposal was a dual DJ style CD player that allowed me to queue discs to a precise spot, and two (360 Systems) audio computers. Although the Instant Replay and DigiCart are different from a standard computer, they store and play music and sound effects from a hard drive.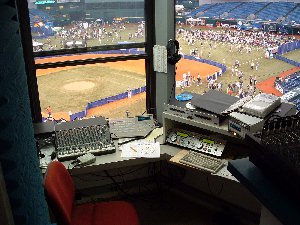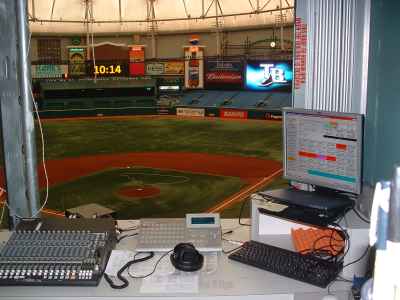 NEW AUDIO TOOLS FOR 2007


I took the above photo while preparing for a day game vs. the Padres on June 14th, 2007. Before the season, the Rays made extensive upgrades to Tropicana Field. Check out the new video board in right field, and the new amber board over The Batter's Eye. My audio roost was moved to the new Rays Vision control room behind home plate on the third base side.

Over time, many CD's in our collection were becoming worn and at times, unreliable. So over the winter, we converted our entire music CD library to mp3's which I now play using Sports Sounds Pro and a HP laptop computer. The data resides on an external hard drive. I still use the 360 Systems Instant Replay for most of my sound effects, and the DigiCart is still used for certain audio presentations, but primarily for backup in case the laptop acts up. With the mixer on the lower left, I control the audio feed from the video boys, three microphones, the organ channel, and my Instant Replay, DigiCart, dual CD player, and the new HP laptop computer.

On game days, I always have a meeting with my director 4-5 hours before game time, and rip any new tunes to mp3's. I haven't played a single CD during a game since spring training!

Sports Sounds Pro has proven to be a rather remarkable program. I can queue any sound to a custom starting point, and play music while I'm programming my in-game selections.



TAMPA BAY LIGHTNING WIN THE
2004 STANLEY CUP!!
To view some pictures I took during the
Tampa Bay Lightning vs. Calgary Flames Game 7
CLICK HERE






This image depicts my scoreboard matrix terminal on Tampa Bay Lightning game nights. My matrix duties involve creating general messages, various graphics and logos on four faces of the octagonal scoreboard, as well as operating clock/penalty information and out of town scores on four auxiliary boards.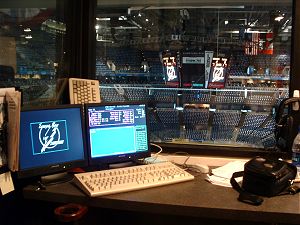 The photo on the right shows the audio room on level seven, far above the ice at the St. Petersburg Times Forum. The upper monitor belongs to what we call the "hook computer." This system stores and plays hundreds of audio events and is configured (as suggested in the tutorial information you will find below), to play .wav files using Windows.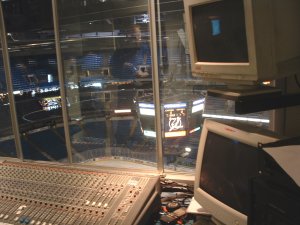 Before 2002-2003 hockey season, however, there were several changes. The arena was no longer called "The Ice Palace." The facility's new name is "The St. Petersburg Times Forum." Also, the organization welcomed Marco, our new live, game night organist. Marco was truly a gifted organist. (He played the bass pedals fluently). He had on his resume, a stint with the famous Santana!
Having never performed as a "sports organist," Marco was provided Disc 1 of my BASEBALL BLIPS 2003 audio library, (organ music disc), and instructed to replicate its sound and content. Needless to say, Marco was a resounding success! The 2002-2003 was truly exciting, with the Tampa Bay Lightning advancing to the second round of the Stanley Cup Playoffs! During the summer, the Lightning game night production team was dealt a setback, however, as Marco had moved to Seattle to pursue other music related business interests.
In 2004, "Johnny O," became our new game night live organist. He quickly met the challenge of providing an "old time hockey" organ performance. Johnny O joined our game night broadcast production team just before the pre-season began. Again, Disc 1 of my BASEBALL BLIPS audio library was our new organist's guiding light.