CONTACT STANLEY SOUND PRODUCTIONS
I'm generally easy to reach, either by e-mail or by phone. Mornings, EST, is the best time to call and speak with me about anything regarding BASEBALL BLIPS 2018. I can answer any questions you might have about setting up a computer to play the audio library. Also, it's no trouble to play some events from BASEBALL BLIPS 2018 over the phone.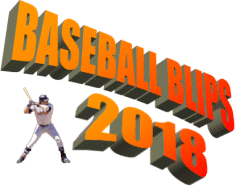 CALL STANLEY SOUND PRODUCTIONS
Telephone: 727-442-4971
If I am away from my office and can't answer, leave a message!
When leaving a message for me, please remember to clearly state your name, and (take an extra couple seconds) to clearly leave your phone number. Unfortunately, I've missed a few calls because I could not quite make out the message on my answering machine. Some cell calls, frankly, sound terrible.
E-MAIL STANLEY SOUND PRODUCTIONS
CLICK HERE to send an e-mail. My e-mail address is: bstanley@stanleysound.com
Send me an e-mail and ask for (Word Docs) Track Information for all ten Discs. Include your phone number and I'll call you back and play a few sounds and answer any questions. Remember, when you call me at 727-442-4971, mornings are best, EST.