2004 STANLEY CUP FINAL

Game 7 Images
I brought my camera to work hoping to capture some special images of the Flames vs. Lightning 2004 Stanley Cup Final Game 7. A lot of the pictures I took from my (Video Production Room) perch didn't turn out quite like I'd hoped. My digital camera seemed to get confused by the glass in front of me, the net behind the goal, and the lighting (no flash).
So here's a few pictures of my day as I arrived at the St. Petersburg Times Forum, just after lunch.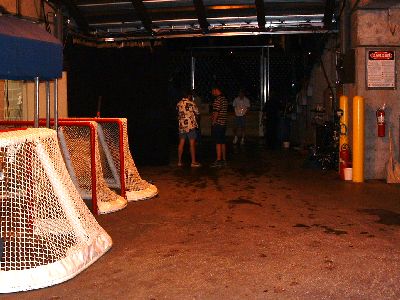 Well, there was lots of activity around the Zamboni entrance. You can't really see it here, but the Forum was getting wired up like crazy! The ESPN guys, and various other TV crews had cables running everywhere.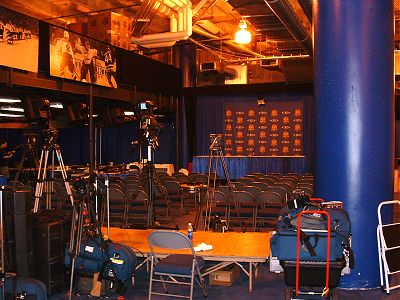 On my way to the elevator that would take me to the fifth floor, I passed the Press area. Later that night, the winners and losers would face the glare of the camera lights, and questions from the media. I recalled seeing Wayne Gretzky getting quizzed here during the 1999
All-Star Game.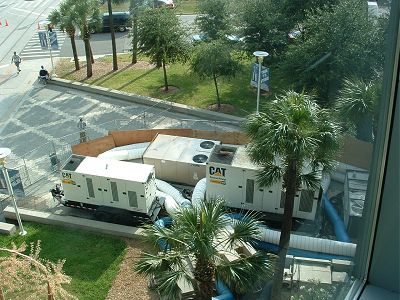 Just before reporting for duty in the Control Room, I looked out of the window at the south end of the Forum, and noticed the NHL had installed a unique piece of equipment indeed! It's an air handler of sorts that helped remove moisture from the interior of the facility, and aided the environmental boys in keeping a grip on ice conditions. The device's tentacles snaked around everywhere in the lower levels.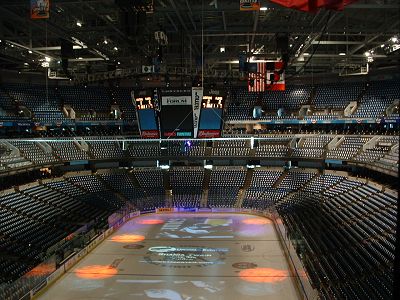 Here's a shot I took during our pre-game rehearsal. We actually projected the video onto the ice rather than use the overhead scoreboard. All the seats are draped with the soon-to-be-inflated "Thunder Stix." You can't see it, but the laser show techs are fine tuning their gear as well.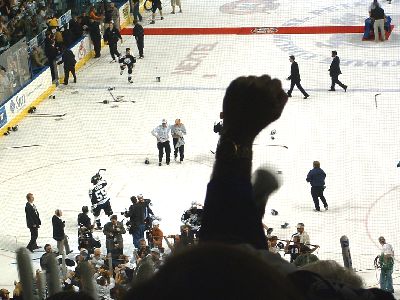 The Bolts Win!! The team celebrated a few minutes around goal tender Nikolai Khabibulin. Unbelievably, the Lightning would soon be hoisting the Stanley Cup!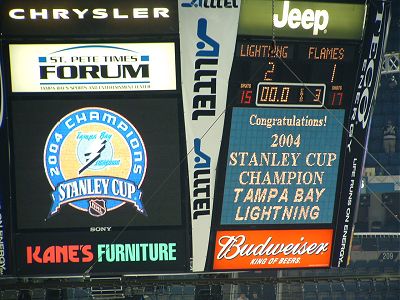 Final score, Lightning 2 - Flames 1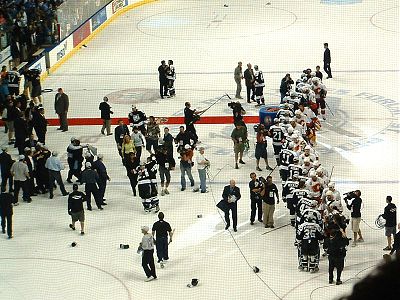 The Calgary Flames and Tampa Bay Lightning lined up for the traditional post-game hand shake.
The war was over.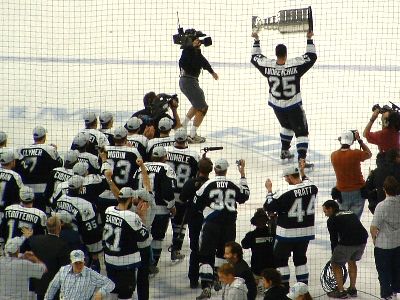 Tampa Bay Lightning Captain Dave Andreychuk is the first to hoist the Stanley Cup.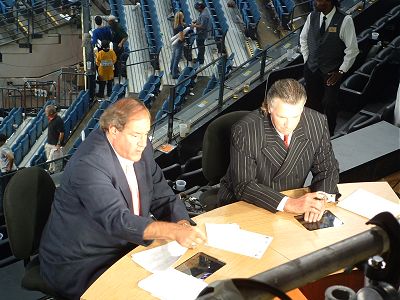 Just down and to the right of my matrix terminal was the ESPN set. Here, Chris Berman and Barry Melrose engage in their post-game wrap up. During the series, the fans treated these guys like rock stars!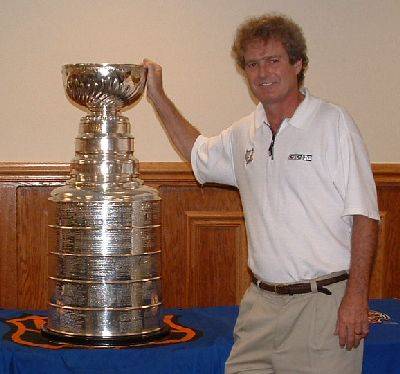 Yours truly.
I finally had a chance to leave my finger prints on the Stanley Cup.