Copyright © 1999, Bill Stanley and Woodlock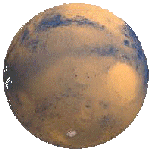 IS MONUMENTATION ON THE
MARTIAN SURFACE DEPICTING
THE CONSTELLATION OF ORION
EVIDENCE OF AN EGYPT, MARS,
ORION CONNECTION?

In the months since their startling discovery, independent
researchers Bill Stanley and Woodlock struggled daily with the
prospect of introducing their find on the Internet. After much
deliberation, they are presenting now, a preliminary evaluation
of anomalous structures on the Red Planet.

* * * *
INTRODUCTION



The mathematical probability of landforms
on the Martian surface (imaged by the Mars
Global Surveyor spacecraft) randomly duplicating the
postions of numerous stars in Orion and adjacent
constellations seemed to be astronomical.

Several years back, author and Egyptologist
Robert Bauval noticed a correlation between the
stars in the "belt" of Orion and the orientation
of the Giza Pyramids in Egypt. His theories
were recently detailed in his best-selling book,
"The Orion Mystery."

Is it possible an ancient trail-head of clues
on the Giza Plateau, in fact lead to an
even more profound mystery...on Mars -- a
path mankind was destined to follow?

Decide for yourselves...

THE ORION ENIGMA
Back To Mars Anomalies Front Page